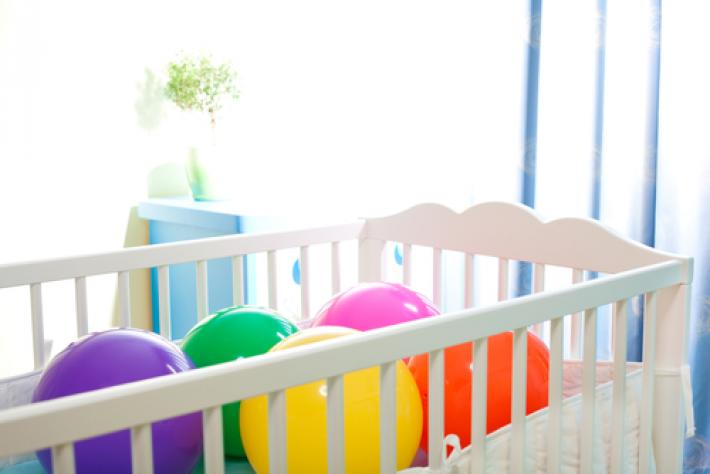 Submitted by Furniche
Designing a nursery is some of the greatest fun to be had when it comes to preparations for a new baby.
At the same time, aside from making a cute and cozy space, it is important to be both practical and safe. After all, a nursery space only serves its purpose for a brief time, but a hospitable, protected environment is of the utmost importance.
The Whole Truth & Nothing but the Truth!  There are links and ads on this site that pay us a commisson if you "click" and purchase something. This helps us to keep the lights on and continue to provide free content. Thanks! Now you may continue reading!
First things first: When selecting baby furniture pieces, you will want to choose within the most up-to-date safety requirements. You can check for recalls and read reviews on various websites, but one of the best ways to ensure that you're choosing safe furniture is too look for certification from the Juvenile Products Manufacturers Association (JPMA). These furniture pieces are guaranteed to meet the most current safety regulations and to be well made in order to make for the safest possible space for your baby.
Depending on your space allowance, you can choose how much additional furniture you want, but one thing is certain: You're going to need a crib.
Typically, a crib is the centerpiece to any nursery, but that doesn't mean it needs to be elaborate. Even the simplest crib can be made beautiful with the right décor and furniture arrangement. You may also want to look into a convertible crib for future use as a toddler bed and, in some cases, even a double bed headboard. A well-made convertible crib can see many years of use and makes for a wise investment. Often baby furniture can be sold as suites. Cribs may offer add-on options including changing stations, dressers, and rockers. Individually, these extra pieces can be expensive, so it can be cost effective to buy in sets. If you choose a crib without a suite or decide to purchase pieces individually, it can be easy to thrift furniture for a nursery. A small, secondhand dresser, for example, is easily made nursery-ready with a fresh coat of pastel paint and some kid-inspired hardware. Do-it-yourself projects like this can add a family-centric and nurturing touch to your baby's space. Another trick, if you're short on funds or space, is to convert a dresser or vanity into a changing station by securing a contoured changing table mattress to the top. You can soften the area with specially-designed sheets and the drawers make for excellent, convenient diaper and wipe storage. Aside from the crib, choosing a comfortable rocker is important. You'll spend many late—but precious—nights rocking your child in that chair, so it is important to consider comfort when making that purchase. Find a furniture store in your area that has baby furniture.
Insider Tip- Once your child out grows the crib; the additional pieces from the nursery may continue to be used by simply adding a metal bed to the room.
Insider Tip- Be sure to add a good quality mattress to help your baby rest and get the support they will need to develop.