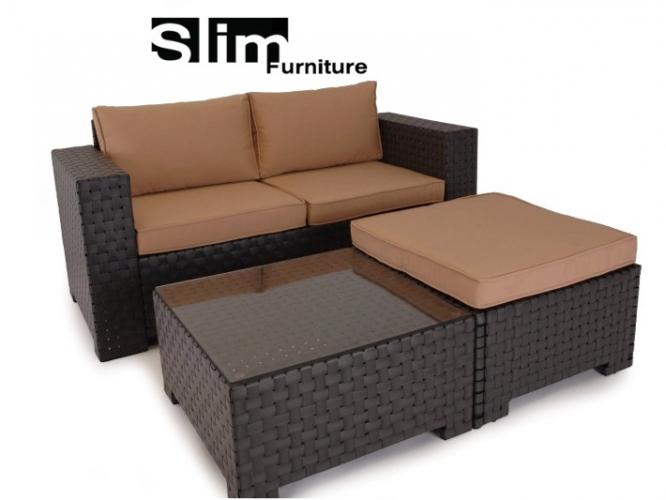 Submitted by Furniche
Face it, if you have ever moved, modular furniture makes sense!
At the recent furniture market in High Point, North Carolina, we met the folks from Slim Furniture. If you have ever assembled or disassembled furniture when moving then you will be impressed with their modular furniture system. We asked them to provide us more info on their modular furniture products and their company. We watched a demonstration on the ease of assembly and knew we wanted the Furniche.com community to learn more. Here is what they would like to share with you.
The Truth & Nothing but the Truth!  There may be links or ads on our site that pay us a commisson if you "click" and purchase something... Thanks! (it helps us keep the lights on! ) Now you may keep on reading!
SLIM IS A PORTABLE, HIGH QUALITY, MODULAR FURNITURE SYSTEM THAT IS CONSTRUCTED AND DECONSTRUCTED EASILY WITHOUT THE USE OF TOOLS.
Slim is designed to be set up, knocked down, and thrown into the back seat of a compact car with ease.
Slim will fit in any elevator but will also fit up the most narrow staircase while being designed to be moved by one person. Slim is durable, high-quality modular furniture designed for any setting, indoor or outdoor, which can be customized to fit the personality, living space, and lifestyle of any person. Slim ottomans are considered the basic building blocks of an interior design in this modular furniture system. They allow anyone to create an infinite variation of environments consisting of ottomans, chairs, love seats, couches, and anything else that can imagined…all in minutes. Slim is an originator in the multi-use modular furniture movement. Every modular furniture piece has built in storage and through the use of Slim's conversion kits, any piece can be converted to accommodate a change in surroundings or an impromptu event. Our three piece couch can quickly turn into a love seat with an ottoman, three individual seats, or a bed while fitting in a hatchback.
Slim Furniture is built for portability.
Deconstruct it, reconstruct it, and reuse it – without nails, screws, or that cheap "one-and-done" wood. Slim is solid. When it's time to move on and you're ready for a change of scenery you can pack up, get out the door, and get on to life's next adventure. Bottom-line, you or your child's ever-changing lifestyle needs an adaptable companion to keep on keeping on without having to call the friend with the pickup. Slim Furniture – Simple, classy, and in it for the long haul.  Visit our website Slim Furniture or find us on Facebook and Twitter.
Read about the inspiration behind Slim Furniture from the founder.
"Working in the residential moving industry opened my eyes to the many issues that arise from relocating someone's entire life. While odds and ends can be moved in nicely sized boxes, large pieces of furniture are typically the anchor to the process. Most homes aren't designed with the move-in/move-out process in mind. Many times the best space for large furniture can be the toughest area of the house to reach. I saw a large untapped market for upholstered hardware-free KD (Knock-Down) furniture. With the 18-30 y.o. crowd moving between 3-5 times over the span, there were numerous benefits that we could provide. SLIM Furniture's goal will be to provide full sized hardware-free KD furniture that a 80+ lbs. person can move by themselves, in a compact car, to that seemingly impossible space to reach. Additionally, the furniture will also maximize modularity, storage, quality of materials and ease of maintenance. With all these value propositions met, SLIM hopes to empower consumers by making the moving process about freedom vs. the fight".