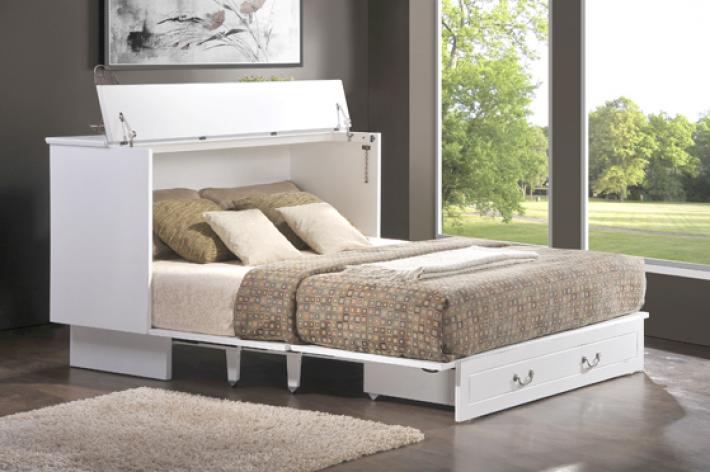 Submitted by Furniche
Do you have limited space for overnight guests? The space saving furniture products from Arason Enterprises now solve the problem of a comfortable place for guests to sleep.
The Truth & Nothing but the Truth!  There may be links or ads on our site that pay us a commisson if you "click" and purchase something... Thanks! (it helps us keep the lights on! ) Now you may keep on reading!
Let's face it, all of us have spent the night as guests on an uncomfortable sleeper sofa or even worse the dreaded air mattress. Now there is an option that saves space and is stylish too. With smaller homes and apartments, there is a need for an alternative to the modern murphy bed.  A Murphy bed or a fold up bed is a more expensive option and requires some permanent installation.
Arason developed this concept of a fold up bed when the founders needed extra sleeping capacity for their small home office. The concept of this space saving furniture was the brain child of Jane Arason. Jon, her husband made the first one in his basement shop in 2002.

Since that first effort their products have evolved and come in a variety of styles and 6 finishes. Unlike the modern murphy bed, the ease of opening and setting up the bed is safe and simple.
Aside from the obvious benefits of space saving furniture, their "Creden-ZzZ" cabinets have a flip top and are  designed for ease of use. They feature  a 39 or 43 inch high top surface and a lowered center of gravity fold down front panel. These make excellent choics for anyone who has downsized or for a home office where thge counter height top makes a great work surface. Resort and vacation properties or anyone that needs comfortable guest sleeping will appreciate this alternative to the modern murphy bed. The space saving Creden-ZzZ with the flip top provides plenty of head room for sleeping with moving the items off the top. You simply push them backwords. You can even put a flat screen TV on the top. Queen size dimensions: W64 x H39 or 43 x D25 closed. Opens to 81 inches.
The mattress in this Arason space saving furniture piece is a comfortable 6" quality foam mattress.The Creden-ZzZ Style Cabinet bed features a tri-fold, high resilient foam mattress.  The  6 - inch mattress with starts with 4 inches of base foam and two inches of softer foam on the top. Three mattress segments are sewn together and do not separate when laid flat. Mattress accordion folds to fit into the cabinet. W 60 x L 80 inches Mattress comes with a 1 year guarantee. Takes standard sized sheets.
The Arason "Crend-ZzZ" cabinet beds are available at furniture stores and online retailers. They welcome your contact to find a retailer near you.

Phone: 214-584-6557