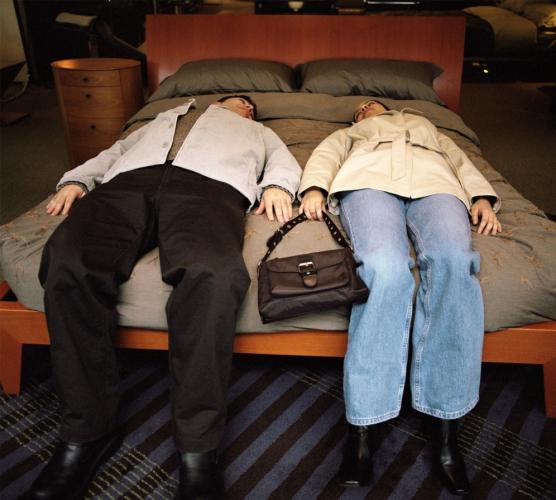 Submitted by Furniche
How did you sleep last night? Is it time to buy a new mattress?
Buying a new mattress is a big decision, especially if you're looking for a new one because you're not sleeping well, or the old mattress  has been causing you aches and pains. Then it becomes an urgent situation. But it's difficult to choose from all of the different models and designs that are available. Do you sleep better on firm or soft surfaces? Do you love memory foam mattresses , or do you prefer pocket coils? And where do you even begin the process of buying a new mattress?
The Truth & Nothing but the Truth!  There may be links or ads on our site that pay us a commisson if you "click" and purchase something... Thanks! (it helps us keep the lights on! ) Now you may keep on reading!
Here's where to start: take some of the advice below, go test multiple mattresses in a store for as long as it takes, and then be able to make an educated and well-researched before buying a new mattress. After all, this is a purchase on which you're going to be spending a lot of time.
When should you be buying a new Mattress
General information is that you should replace your mattress every 7-8 years, because after that amount of time, it may not be giving you the support and comfort you need anymore. Regardless of the time frame, you should definitely replace your mattress if it is sagging in the middle, it is lumpy, or the mattress is creaking at night.  Also read our article "why your bed frame matters".
Failure to plan is the most common furniture mistake. Be sure to check out the  wide selection of furniture space planners, color wheels and furniture templates available from Furniche.com
Main Types of Mattress and "Speaking Mattress"
Open-spring mattresses - Offers support from springs that are made from one long piece of wire. This is the most common type of mattress and usually the most affordable design.
Pocket-spring mattresses - These mattresses have springs that are individually encased inside fabric pockets. They are generally supportive types of mattresses.
Memory foam mattresses - These mattresses do not have springs. They are developed to mold to the shape of your body.
Try, Try, Try it out (and then try it out more before buying a new mattress)!
Fifteen minutes should be the minimum amount of time you spending testing out a mattress. Get into your normal sleeping position, and if you share a bed, make sure both of you are testing it at the same time. When buying a new mattress where the bed is shared, consider motion transfer. In other words, when the other person moves or rolls over will you feel the movement?
It's All About The Kind of Support That You Want
Spring mattresses usually come in very firm, medium firm, or soft. The firmness of a mattress should balance out one's body weight. Try a softer mattress, if you are a lighter weight. It is always important to test every mattress you are considering, as the firmness factor is usually different from one manufacturer to another.
Memory Foam Mattress Mania
Mattresses made of memory foam are sensitive to heat and the foam molds to the shape of your body, in order to eliminate pressure points and provide a supportive night's sleep. Buying a new mattress made of memory foam may require extra time to research. The amount of memory foam mattresses in the market place has increased dramatically over the last few years.
Taking Care of Your Spring or Memory Foam Mattress
Flip over your mattress regularly to extend its mattress life. If you end up buying a new mattress that is unable to be turned over, rotate it every few weeks so that the head end becomes the foot end. Many memory foam mattresses have removeable covers that may be laundered.