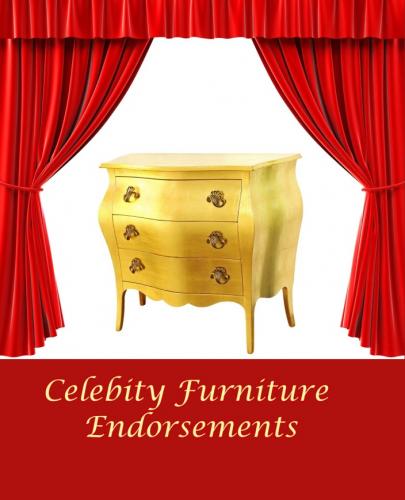 Submitted by Furniche
What do furniture collections and celebrities have in common?
Furniture stores and manufacturers have been using star and celebrity power for years to promote their products. Some times it is a simple advertising endorsement as a spokesperson and other times the celebrities have signed on with the manufacturer to create a collection of furniture. Presumably the star or celebrity has artistic and style involvement. Below is a list of some of the current and previous celebrities that have been involved in the home furnishings industry. 
The Truth & Nothing but the Truth!  There may be links or ads on our site that pay us a commisson if you "click" and purchase something... Thanks! (it helps us keep the lights on! ) Now you may keep on reading!
Do celebrity endorsements make a difference in the quality and style of the furniture?
Does celebrity endorsed merchandise cost more?
Cindy Crawford - Model- Currently working with retailer Rooms To Go
Sofia Vergara - Actress - Currently working with retailer Rooms To Go
Brooke Shields - Actress- Spokesperson for retailer and manufacturer La-Z-Boy
Marth Stewart - Home/Garden TV Star -Currently working with Bernhardt and lends her name to many other categories.
Jane Seymour- Actress- Currently working with Aico Industries and Michael Amini Furniture Designs.
Jacklyn Smith- Actress - Currently has furniture in K-Mart and has worked with manufacturer Standard Furniture
Paula Deen - Chef/Cooking Show Star - Currently working with manufacturer Universal Furniture
Candice Olson-interior designer on home/garden tv -Currently working with manufacturer Highland House and others.
Alexander Julian-Clothing Designer- Had a collection of furniture with Universal Furniture.
Bob Timberlake-Artist - Created many furniture items with Lexington Industries and now works with 15 licensees.
Donny Osmond-Entertainer-Recently announced a new furniture and accessory arrangement at the Las Vegas Furniture Market
Guilliana and Bill Rancic-TV Celebrities-Now the official spokespeople for Ashley Furniture
With only a few exceptions the celebrities that create furniture and home furnishings lines impart their style and flair into the furniture.  Are these original designs by the celebrity? Probably not. However the furniture manufacturers will glean from the celebrity their individual styles, tastes and preferences then incorporate these elements into the furniture. At the furniture markets the manufacturers will tell you that the celebrity has final say and sign off but it is more than likely a collaborative agreement.  High volume and mass production techniques bring some compromise to the process by sheer need for efficiency. The bottom line is the furniture and furnishings have to have mass appeal to be successful.  Generally there is a licensing agreement where the celebrity or star earns a percentage fee of the products sold.  Don't let the name or the star power sway you. The furniture you purchase still must meet your needs, style preference and personal tastes.
Furniture that uses star or celebrity involvment /endorsement may tend to be a bit higher in price. Is it any different than buying clothing with a brand name or going to well known restaurants?  The key is making certain that the furniture is what you need or want. There may be many similar looking lines from other manufacturers thus a reminder to do your furniture shopping homework. If the merchandise fits your needs and is fairly priced then you get the bonus of dropping "names" when you have guests visit your home and admire your furniture.
Failure to plan is the most common furniture mistake. Be sure to check out the  wide selection of furniture space planners, color wheels and furniture templates available from Furniche.com