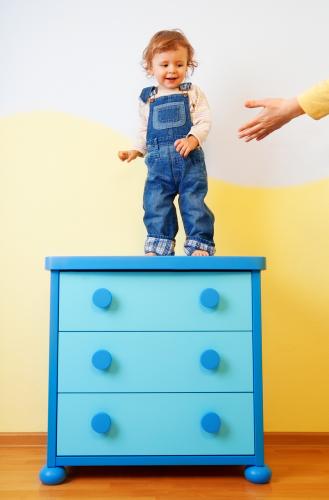 Submitted by Furniche
Furniture certainly doesn't seem unsafe, but with pets or small children in your house, a basic piece of furniture can turn into a safety hazard.
You can take simple precautions to ensure that your furniture is enjoyed as safely as possible.
The Whole Truth & Nothing but the Truth!  There are links and ads on this site that pay us a commisson if you "click" and purchase something. This helps us to keep the lights on and continue to provide free content. Thanks! Now you may continue reading!
First, simply make sure that your furniture is properly utilized. Using furniture for purposes other than intended, for example, tipping back in a dining room chair, can compromise the structure and integrity of the piece. Or simply misusing a piece of furniture—jumping on a bed, for instance—increases potential for injury. Next, make sure that you furniture is properly assembled, especially if the manufacturer did not assemble it. Over time small pieces can come loose and increase the risk for breakage. Make sure that your furniture is positioned safely throughout your home. Keep furniture, especially wood pieces, away from fireplaces to avoid contact with flames. And consider the potential for injury if your child or pet uses a piece of furniture to look out a window or reach something on a high shelf. Finally, you can modify your furniture with childproofing gear such as corner bumpers and cabinet locks to create an even safer environment for younger children. Read this additional articles on alarming furniture and child safety facts.
Failure to plan is the most common furniture mistake. Be sure to check out the  wide selection of furniture space planners, color wheels and furniture templates available from Furniche.com