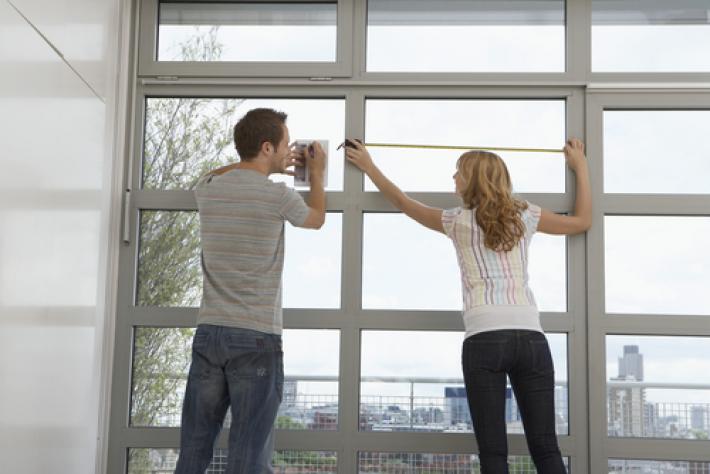 Submitted by Furniche
When you're hanging drapes, sometimes it is easier to order custom drapes and have a professional install them for you.
However, if you are willing to work precisely, you can also go the retail route and install them yourself. If you're going to use pre-made curtains, your windows must be even and a standard size, otherwise you'll have an impossible time finding drapes to fit. Choose a material that will look high-end and customized like silk, cotton or woven wood. This will ensure that the drapes hang well and don't look factory-made. Some furniture stores still carry draperies and wall coverings. Find a furniture store in your area.
When measuring for your drapery, use a stiff steel tape measure for accuracy. It's better to have someone to help; if you're measuring on your own, it's difficult to be positive that you have measured straight. You'll need accurate numbers for both length and width—your curtains have to fit across the space but you don't want them to be too short either. You may want to over calculate the width for volume in across, or the length if you'd like your curtains to brush the floor. You'll need to install proper hardware to hang your curtain panels. Using sturdy high quality hardware is a key in guaranteeing a strong and straight hold. Make sure that you use a level to keep things balanced as well. It's important that you hang the hardware correctly to avoid under framing or over framing your window. If you have uneven windows, however, you can measure a little bit over to frame the windows at the same distance across, making them appear to be the same size.
Failure to plan is the most common furniture mistake. Be sure to check out the  wide selection of furniture space planners, color wheels and furniture templates available from Furniche.com