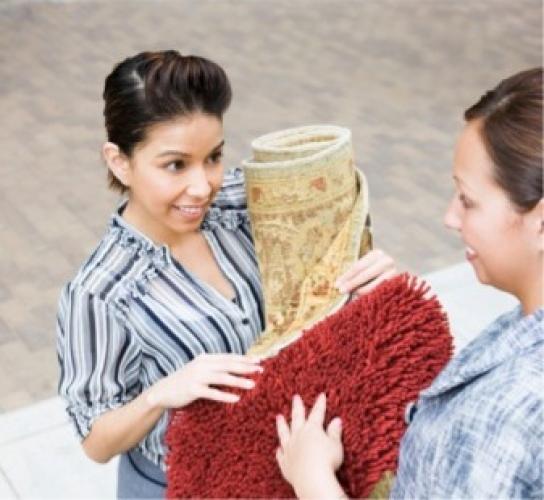 Submitted by Furniche
Area rugs are a great addition to any room because they serve both functional and aesthetic purposes.
The size of an area rug is an important first consideration. See common area rug sizes here.
The Whole Truth & Nothing but the Truth!  There are links and ads on this site that pay us a commisson if you "click" and purchase something. This helps us to keep the lights on and continue to provide free content. Thanks! Now you may continue reading!
Should it simply present itself in a doorway? Throughout an entire entryway? Or do you want a rug to cover a majority of your room, for example, under a dining room table and chairs? If you are a choosing a larger rug, it is important to not overwhelm your space. Generally, a large rug should leave about 12-18 inches of space between its own edge and the wall. If your area rug is smaller than room size, play with shape to meet your needs—try a long rectangle to line a hallway; an octagon or circle to compliment a round table; or a half moon to add color against a fireplace.
You will also need to consider your color, keeping in mind your color scheme, but, again, that you don't want to overwhelm your space. Light colored rugs open up a room, but they are more difficult to keep clean. A dark colored rug will condense your space, but if the color is quite bold, it can appear ominous in a smaller room. Patterned rugs are also popular and can be a means for pulling multiple colors into your room design. Choose a more neutral pattern, one that could be integrated with a variety of styles to give your rug longer life. Rugs can be a significant investment and have a fairly wide price range. Material and production methods are the greatest price-determining factors. As a rule, wool rugs have the longest life and best withstand wear. Rugs can also be made from silks or synthetic fabrics and can be hand woven or tied or fabricated by machine. A handmade high-quality fabric rug will be higher in cost than a rug made by machine with synthetic fibers.
Insider Tip- Be sure to use a non-skid rug pad for safety with area rugs.
Insider Tip- Rotate your area rug to avoid traffic pattern wear.
Failure to plan is the most common furniture mistake. Be sure to check out the  wide selection of furniture space planners, color wheels and furniture templates available from Furniche.com