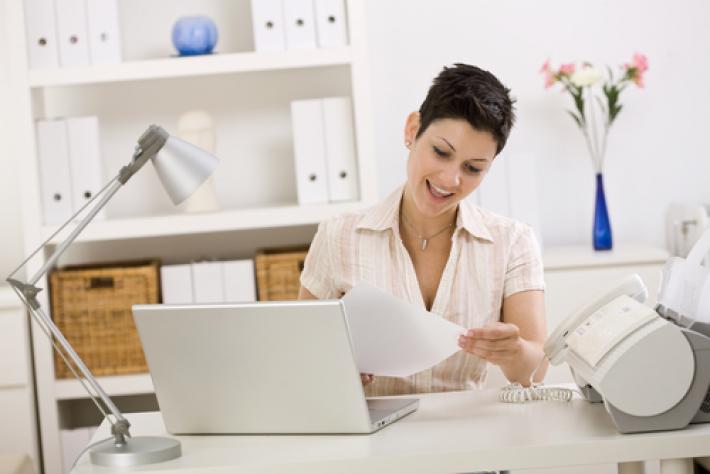 Submitted by Furniche
It's important to have a reserved space in your home suitable for just getting things done.
The Whole Truth & Nothing but the Truth!  There are links and ads on this site that pay us a commisson if you "click" and purchase something. This helps us to keep the lights on and continue to provide free content. Thanks! Now you may continue reading!
A well designed home office can set the tone for completing whatever tasks may lie before you. Often it is an unused space in the home that is best converted into a home office, and that could be anything from a spare bedroom to a small hallway nook. You'll need to do your furniture planning around your available space, while considering other elements such as electrical access, storage, and a private working environment. If your home office space can't be closed off from disturbances, you may want to use your furniture pieces and partitions to create as quiet a spot as possible.
Your primary furniture piece will be your desk. Choose something that is comfortable and with necessary space for a computer, writing, and other potential uses. You'll also want to consider storage and organization at your desk, depending on what you most use your home office for.
Next you'll need to choose a desk chair, and comfort is the key here as well. A desk chair should promote good posture and back support. It should also be height adjustable for optimum comfort and functionality. Aside from these key items, and depending on your space, you may wish to include other furniture pieces such as a filing cabinet, bookshelves, storage armoires, and additional seating for clients or guests. All of these pieces should be chose to fit conveniently around your desk area for easy access and mobility about your office space. Find furniture stores in your area that sell office furniture.
Insider Tip- Be sure that all shelves in bookcases are adjustable to customize your storage needs.
Insider Tip- Consider pieces with built in electrical outlets or electrical strips for easily connecting your office equipment.
Failure to plan is the most common furniture mistake. Be sure to check out the  wide selection of furniture space planners, color wheels and furniture templates available from Furniche.com