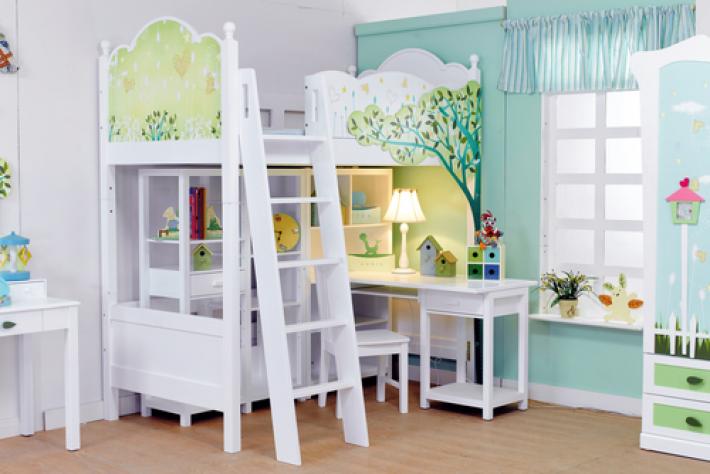 Submitted by Furniche
Creating a bedroom space for your child's room requires versatility above all else.
Children's tastes are constantly changing, along with their needs, personalities, and interests. By starting with simple, standard, multi-use furniture pieces, you can create a stoic kid-friendly livings space that can be changed to reflect their changing tastes and interests through changes of color and décor.  Check out some night light beds here,
The Whole Truth & Nothing but the Truth!  There are links and ads on this site that pay us a commisson if you "click" and purchase something. This helps us to keep the lights on and continue to provide free content. Thanks! Now you may continue reading!
While it may seem unnecessary or counter-intuitive, it is worth investing in higher-quality pieces when buying kids room furniture. It's important to know that your child's furniture is safe and well made; but more so, you want to know that it can stand up to slamming drawers, slumber parties, bed-jumping, and wrestling matches. Since kids will be kids, durability is key.
If you're concerned about space, it's easy to find fun and practical options like lofts or bunk beds, Captain Beds, or combination furniture pieces designed to suit a smaller room.
Also important to include: storage. Beds with built-in drawers or bookshelves with storage baskets will encourage kids to keep toys and clothes off of the floor—or at least make it easy for them to clean up in a jiffy. And it makes the furniture fun for them too; a unique toy chest or a "secret compartment" in a nightstand is the perfect places to safe keep childhood treasures.
Finally, when shopping for your kids room furniture, get them involved. If they are part of the process, they'll be more likely to take pride in their room and to love it for a longer time. They can help you understand their tastes and needs and guide the purchasing. It's an excellent way to bond with your child and to create an environment in which they can thrive and grow.
Insider tip- Try to buy all the pieces you think you will need. If a manufacturer or furniture store discontinues a collection you may not be able to finish out the room at a later date.
Insider tip-Kid induced chips and dings can be minimized by pieces that use laminate or high pressure melamine tops.
Failure to plan is the most common furniture mistake. Be sure to check out the  wide selection of furniture space planners, color wheels and furniture templates available from Furniche.com