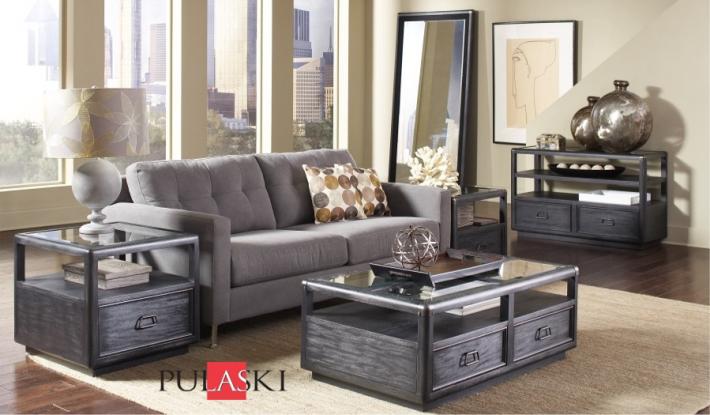 Submitted by Furniche
Do you have a favorite song that brings back memories?

Now it is possible to own a collection of  furniture that may actually bring to mind a tune! Pulaski Furniture launched a new furniture collection this year that was inspired by the American Jazz Guitar wonder Matt Marshak.
The Truth & Nothing but the Truth!  There may be links or ads on our site that pay us a commisson if you "click" and purchase something... Thanks! (it helps us keep the lights on! ) Now you may keep on reading!
Pulaski Furniture, one of country's leading furniture brands with a 60 year heritage, introduces Rhythm & Home Furniture , their latest collection inspired by the lifestyle and music of Long Island's own Matt Marshak, one of the country's leading jazz musicians. This complete Rhythm & Home Furniture collection (bedroom, dining, occasional and upholstery) includes over 70 pieces and mixes contemporary and urban styling featuring a variety of materials that offers a young and hip, yet comfortable lifestyle approach.
"Rhythm & Home by Pulaski Furniture brings a unique medley of casual living and easy lifestyle to today's homes. By fusing design with artistry, this home furnishing collection brings together style, comfort and individuality." says Page Wilson, Pulaski Furniture president.
Rhythm and Home Furniture Collection bears two flavors — Vintage Tempo and Modern Harmony, each of which has roughly 35 pieces.
Vintage Tempo is made with prima vera veneers and comes in a low-sheen charcoal-tone finish. It has two beds, including a panel bed with a button tufted leather headboard that also has a frame with fabric that resembles material on the speakers of a guitar amplifier. The fabric also appears as an accent on the doors of a bar and a bar cabinet. Vintage Tempo also has three dining tables, including a rectangular leg table with an X-pattern on the surface, which is repeated on the top of a buffet and on the back of dining chairs. There is also a round pedestal dining table and a small pub table featuring industrial elements such as a manhole-inspired surface and a metal base.
Modern Harmony is made with walnut veneers in a natural low-sheen walnut finish. A panel bed features vertical channel tufting on the headboard and footboard. Companion case pieces feature hardware inspired by the bridge of an electric guitar, while an Amp nightstand was inspired by old tube amplifiers and features a blue tooth MP3 player unit. A two-door accent chest has an antique sunburst finish similar to guitar finishes.
"Rhythm & Home brings together my love of family and home with my passion for music. I believe the rhythm and music of our lives is what brings us and holds us together." says Matt Marshak. "I am really excited about it," he said. "Seeing it from the initial concept to now has been an amazing experience. They had a great vision to build this furniture around the concept of jazz and my music."
The Thythm & Home Furniture  collection is available in stores nationwide in spring 2015. www.pulaskifurniture.com   Find a furniture store in your area.


Matt Marshak grew up on Long Island and resides in Riverhead, NY. He is recognized as one of country's top jazz guitarists and has recorded eight albums including the recently released "Lifestyle" in 2014. He performs at jazz festivals around the world supporting his music. Marshak's sound is heartfelt, his guitar playing is hand-crafted, and he's well on his way to becoming a new, original guitar voice as he continues to push the limits of jazz and groove music. When not performing, Matt gives back to the community by visiting schools to pass the magic of music onto the next generation of performers and listeners. www.mattmarshak.com    Try a free download of his music.
Failure to plan is the most common furniture mistake. Be sure to check out the  wide selection of furniture space planners, color wheels and furniture templates available from Furniche.com