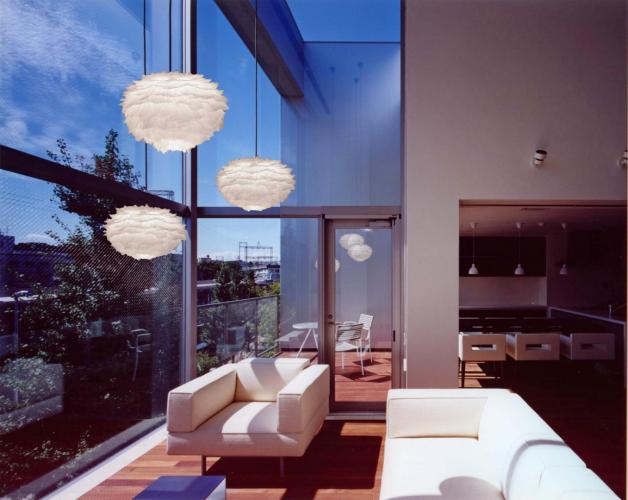 Submitted by Furniche
Another find at the recent Home Furnishings Market. Lighting made of feathers from Denmark!
As we walked up to the Vita Lighting space at the recent Las Vegas Furniture Market we were stunned by the simple beauty of this unique lighting fixture.
The Truth & Nothing but the Truth!  There may be links or ads on our site that pay us a commisson if you "click" and purchase something... Thanks! (it helps us keep the lights on! ) Now you may keep on reading!
This lighting fixture is made of pure white environmentally safe goose feathers hand sewn in place. This fixture when lit has a warm and almost mystical appearance. The softness of the feathers coupled with the lighting truly makes it one of the more unique lighting items the Furniche team has ever seen in the home furnishings industry.
Vita Lighting has recently ventured out of Europe to the US market. Their unique line of lighting boasts eco friendly aspects along with simple but elegant designs. Of course one of the first questions we asked, "how do you clean it"?  A hair dryer is all you need to keep it clean. (no, you don't wash it)
As Vita is now distributing this product to US retailers, it is sure to be coming to a store near you.
Learn how to "Finish off any Room with the Proper Lighting"
We also found this article on decorating with feathers to be interesting.
 
This picture from their website illustrates how it glows!  They come in a variety of sizes too.
 
Below is information Vita Lighting provided for us to share with our visitors.
Founded in 2008, VITA Lighting was launched in Copenhagen, Denmark by three young entrepreneurs.  In 2010, the company launched the impressive "Silvia" lighting line constructed of environmentally friendly polycarbonate.  Vita's design and packaging captivated the European market.  In 2012, the company expanded into "EOS" made out of pure white environmentally safe goose feathers, which are hand-sewn into a bio-degradable frame. All products are approved with UL standards and meet fire resistant requirements.
If you want to learn where to find Vita Lighting, please visit our website and find our dealer locator.
Failure to plan is the most common furniture mistake. Look at this wide selection of furniture space planners, color wheels and furniture templates.