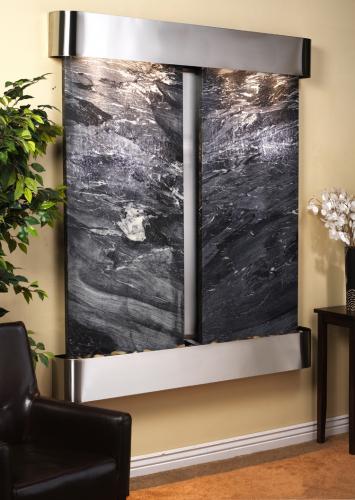 Submitted by Furniche
Indoor water features and fountains will calm you and your entire room!
We discovered and experienced first hand the calming effect that well designed indoor water features  will have on you. At the recent Home Furnishings Market in Las Vegas we met our new friends from Adagio Water Features. As we entered their showroom the water features in their space were nothing short of spectacular.  In addition to the flowing water having a calming effect,  their use of materials and the aesthetic appeal of each water feature was striking. They do a great job of combining the right color of stone with the metal finish to create these beautiful products.  ADAGIO Water Features are made using natural slate and rainforest marble stones.
The Truth & Nothing but the Truth!  There may be links or ads on our site that pay us a commisson if you "click" and purchase something... Thanks! (it helps us keep the lights on! ) Now you may keep on reading!
There are many issues to consider when selecting a water feature for your home. Here are just a few things to consider.
Do you want a wall mounted feature or a standing feature? Water features and fountains come in a wide variety of sizes. Adagio had wall mounted water features in a variety of sizes as well as standalone units in many different widths and heights. As in furniture selections you need to think through the purpose of the item. Is it an accent to the room or a statement piece that sets the tone for everything else in the room?
What about maintenance of your water feature? These things are so calming and beautiful that it is easy to overlook the need to keep them filled with water and kept clean. Adagio has some great videos on their site to help you in this process. We were impressed that none of the features on display were splashing or even showed signs of splashing.  (note that we at Furniche have sold other water features over the years and can attest to the mess and inconvenience of poorly designed and executed water features)
What is your budget? Trite but true, you get what you pay for. An indoor water feature or fountain will be a significant investment especially if you look for well built quality products. Careful inspection of the water feature will reflect why it is worth the cost. Adagio uses precision manufacturing as you will see in this video.
Is it customizable? Adding lighting to your water feature will dramatically change impact of the water feature. Most of the Adagio water features will accomodate a remote control LED lighting accessory. These lights even change color for the ultimate in mood setting.
We asked the folks at Adagio Water Features to tell us about their products and here is what they said:
"Tranquility originates in Salt Lake City, Utah where Adagio Water Features designs, creates, and produces the highest quality water features available. Adagio blends the beauty of natural slates, travertines and rainforest marbles trimmed in premium metals, with the gentle flow and sounds of rushing water which are illuminated with halogen lighting in bringing tranquility to life".
Failure to plan is the most common furniture mistake. Be sure to check out the  wide selection of furniture space planners, color wheels and furniture templates available from Furniche.com