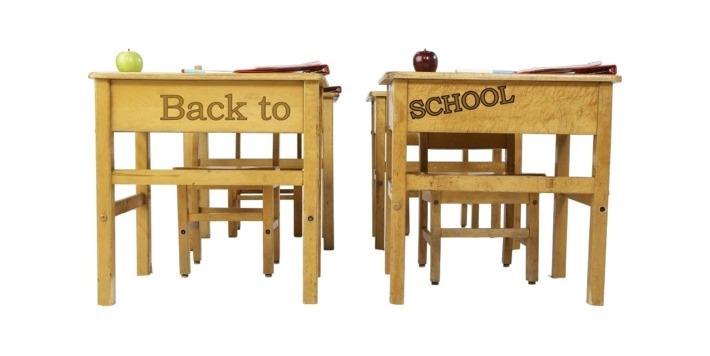 Submitted by Furniche
Back to School Furniture and Mattress sales are about to light up the furniture scene like fireflies on a warm summer evening.
The return of the school year often coincides with some of the more exciting life events in our lifes. Whether it is a son, daughter or grand child going off to college or the younger members of your home starting school or moving into middle or high school, going back to school furniture and mattress sales will focus on some key shopping areas.
(The Truth & Nothing but the Truth!  There may be links or ads on our site that pay us a commisson if you "click" and purchase something...it helps us keep the lights on! )
A good mattress properly fitted for the student will enhance the learning process. There are countless studies and claims by mattress manufacturers that a good night's sleep is essential to maintaining energy and thought processes. Furniture stores will be placing special emphasis on mattress sales and some will even offer discounts for students and teachers.  Twin size mattresses will generally be the most popular for college dorms but other college students will be living off campus in apartments or houses. If your off to college student has been sleeping on a queen size mattress set in your home,  he or she may be surprised if switching to a twin size mattress. Standard twin size mattresses are 39" wide and 75" long while a standard queen size mattress is 60" wide and 80" long. Twin size mattresses do not allow the ease of rolling over and as large a sleeping area as full size and above mattresses.  If your student is taking the mattress from home then it may be time to replace your own personal mattress and move yours to the new vacated room.  You will find "back to school furniture and mattress sales" to have heavy focus on mattresses.
   Always buy the largest and best quality mattress you can afford.
A student's work area may also have a profound impact on academic success. Even thought many students will have lap top and mobile devices for school, it is wise to help your student design a practical and efficient study area. Desks and desk chairs will be a staple of back to school furniture advertising. Once again space is a consideration and you will expect to see desks and desk chairs that will require assembly. The advantage here is easy transportation and getting the desk or desk chair easily into room. The downside might be the time it takes to put the desk together. Ask questions when looking at desks and understand how the desk is assembled. Take a good look at the display model in the furniture store (find furniture and home furnishings stores here) and test it for stability. Ask how it comes packed and how the assembly process might go.  Of course you will find back to school furniture items in some not traditional furniture store settings. Office supply stores, big box retailers like Ikea and even department stores will have desks on sale in a "back to school furniture" environment.  Bookcases and other storage items will also be advertised quite heavily. If you are setting up your student's study area with bookcases then it is wise to remember to install them safely. Tipping furniture accidents are serious and furniture safety is important.
Expect the back to school furniture sale at your local furniture store to emphasize "small space living". Failing to plan is the most common mistake in buying furniture. This mistake can include space planning mistakes as well as getting the furniture physically in to the room. If you are able to get measurements of living areas, door ways and hall ways then you should take those with you when going out to shop. Fortunately there are now many furniture items designed for the actual back to school furniture customer. For example, here is a sofa  and sectional that comes unassembled and easily transported.
   Understand the space where your back to school furniture will be going!
Discounts and offers for back to school furniture and mattress promotions will be all over the "chalk board"! If you happen to live in a state that has "tax free" holidays on clothing etc. then your local furniture store may match the "tax free" effort for non furniture and mattress retailers. Generally states that have these events do not include large ticket items like furniture and mattresses. Are these tax free events really good deals? It behooves you to do your shopping homework to make certain that this type of discount is really a good deal.
   Do your home work to know when a deal is really a deal!
Back to School furniture and mattress sales at your local furniture store will probably be across all product categories.  Summer time is a tougher time for funiture store retailers. As a result it is likely to find aggressive finance offers and discounts to entice you as a furniture shopper. If your student's new academic adventure creates big changes in your home, this might be the time to consider re-doing other rooms in your home.
If you are becoming an empty nester the it may be time for real change in your home. Take advantage of back to school furniture and mattress sales to change your home and enjoy the new adventures ahead. Now get to your homework!