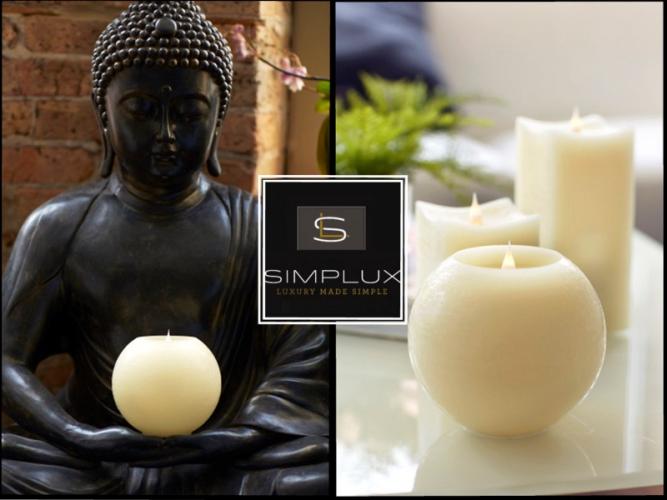 Submitted by Furniche
New Simplux Flamesless Candle styles just released geared towards interior designers and upscale markets.
The Truth & Nothing but the Truth!  There may be links or ads on our site that pay us a commisson if you "click" and purchase something... Thanks! (it helps us keep the lights on! ) Now you may keep on reading!
New round and square styles are perfect to add a little light with a touch of design. Sleek and stylish, yet still provide the same quality effect as our traditional moving flame styles. Features 4 and 8 hour timers, and works with remote control. Remote adds additional 2,4,6 and 8 hour timer, dimmer and steady or flicker flame options!
The earliest known regular candles date back to the Chinese between 221 - 206 B.C. Of course the early use of candles was to provide light and they even contributed warmth to a room.
Today candles are used in a variety of ways to decorate a room or bring an unique feel or ambience to a special occassion. The newest advance of flameless candles that appear to have an actual moving and flickering flame takes these real looking candles to new heights. The candles we found at Melrose actually used plastic along with real wax to create very life like renditions.  Their candles look so real they literally stopped us in our tracks! 
Where and when do people use flameless candles?  Any place that will benefit from the safety of "no real flame" and no smell. Flameless candles are starting to show up in offices, weddings, funerals and of course around the holidays. Driveway luminaries with flameless candles are popping up. A flamesless candle in the "jack-o-lantern"? Why not? A flameless candle or two on timers may even serve as a pleasant night lite in your home.  Candles whether real or flameless create a warm cozy effect in the home decor arena.
What are other benefits of lifelike flameless candles?  These are safe for pets and children and of course they do not need to be replaced. The only upkeep is a fresh battery from time to time.
Melrose International is a leading wholesaler for Giftware, Holiday, Home Decor, Silk Florals and more! From our Midwest beginnings as a pioneer producer of dried flowers to a national wholesaler of silk florals and home decor, Melrose has continued to provide our customers with the same high quality products and customer service that brings them back season after season.
Failure to plan is the most common furniture mistake. Be sure to check out the  wide selection of furniture space planners, color wheels and furniture templates available from Furniche.com