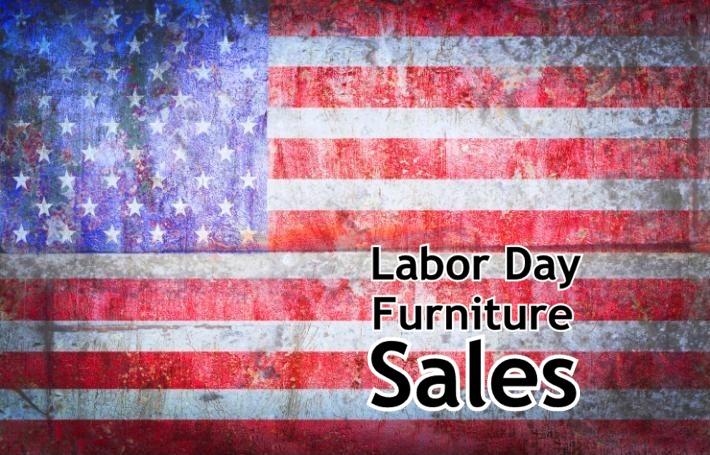 Submitted by Furniche
Labor Day typically marks the end of summer for most people!
In the retail furniture business, Labor Day furniture sales and promotions represent many months of planning. It is often said by retailers that Labor Day furniture sales will set the tone for the fall selling season. Summer is always a bit slower for furniture retailers thus the Labor Day promotions will be strongly promoted.
The Truth & Nothing but the Truth!  There may be links or ads on our site that pay us a commisson if you "click" and purchase something... Thanks! (it helps us keep the lights on! )
Many furniture retailers have learned  that the best times to promote and become aggressive are around major holiday events.  Furniture stores, home furnishings retailers and all other retailers  have conditioned consumers to find the best offers in merchandise and financing during a major holiday period. Find a furniture store here by zip code.
Before we talk about what you may expect during the upcoming Labor Day furniture sales events, let's talk about the way the events will be framed. The Furniche staff has already started to receive emails announcing previews to Labor Day furniture sales. Of course you will see Labor Day advertising for Labor Day Weekend and in some cases advertising for the actual day of Labor Day. Shortly after the holiday you will find " sale extended", "sale held over" and finally "final days of our Labor Day Furniture Sales event".
Most stores will do everything possible to maximize their Labor Day furniture sales.  Furniche does not have any problem with this approach. The dollars spent for advertising and the effort put forth to plan for the holiday selling period are substantial.
Failure to plan is the most common Labor Day Furniture mistake. Be sure to check out the  wide selection of furniture space planners, color wheels and furniture templates available from Furniche.com
Labor Day Preview Events
Preview events will be promoted as "beat the crowds or avoid the holiday rush". As the furniture stores will be very busy over the holiday weekend,  sales people may not have the time or inclination to give you the best help possible with your purchasing decision. Click here to learn more about furniture salespeople and what to expect. The preview event may have extra heavy discounts or long term finance offers. You should confirm the discounts or finance offers will actually expire at the end of the preview period. If the offers simply extend into the weekend, then the preview is only a convenience event. Generally the Labor Day furniture sales with preview events have solid offers.
Labor Day Weekend - Usually Friday through Labor Day Monday
This is the period when the store and the staff are well prepared and focused. Special purchase merchandise may have been brought in for the weekend  and the store will present as much new merchandise as possible on the display floor. Finance offers for the holiday weekend may have longer terms and reduced minimum purchase or down payment amounts.  The sales people will be attentive and ready to assist you. Most furniture sales people are on commission ( there is nothing wrong with this from our perspective) and will be focused on helping you.  The limited stock on hand for special purchase merchandise or special terms for long term financing may create selling and buying urgency. Buying frenzies often exist in a furniture store over holiday weekend events.  Don't get caught up in buying because "everyone is doing it". Doing you homework before you begin shopping is still the best approach. You can also shop for home furnishings online at Totally Furniture.
Held Over or Final Days of the Labor Day Furniture Sales Event
If you left town for the holiday,  then the final or held over days might just be for you. The final days or held over events are often  extensions of the holiday weekend offers. You may  find a reduced selection of products as a result of the busy holiday weekend. You should expect the really good deals on limited quantity merchandise to be gone.  The financing offers may be the same but reduced minimum purchase amounts or down payment requirements no longer available. If you shopped during the holiday weekend event but did not purchase, it is okay to ask  if those special offers could be extended for you.
What are the product categories you might find on special during the entire Labor Day Selling Period?
Some stores will have store wide sales with "every item reduced" or a "store wide discount" 
Expect strong offers on sofas and living rooms. Upholstery is a strong promotional category during Labor Day furniture sales. Special purchases and new introductions allow the store to present fresh styles and new colors. You can shop sofas and living rooms online too.
Dining Sets will be heavily promoted. It is not to early to start thinking about the upcoming holidays. Expect to find some great values in this category. Many of the great values in dining wiil be advertised with a strategy of driving you into the store. Make sure any dining set  has the size and scale you need for your dining area. Construction is always important in chairs since they get the most daily use. You can shop dining sets online too.
Bedding (mattress and box spring sets) will be heavily advertised. Labor Day selling events are great opportunities to find good deals on new mattress and box spring sets.  Be sure  to study all of the choices available today. Traditional innerspring sets are being upstaged by memory  foam and other specialty sleep systems. See our special section called "Sleep Matters". You can shop mattress and box spring sets online too.
Patio and outdoor furniture is now at the end of the selling season. This is especially true for stores in the more norther regions. Look for great pricing on "end of season items" You can shop patio and outdoor furnitue online too.
Finance Offers
You will certainy find  long term finance offers during this time. 36, 48, 60 months no interest with equal payment offers will be available. Long term finance offers may require a minimum purchase amount and down payment. The minimum purchase amounts are designed to get you to purchase more. It is wise to think through your budget and decide if building your purchase amount to meet the minimum makes sense. There is nothing wrong with taking advantage of a long term finance offer if it fits your needs. Of course you should make certain that you can complete the terms of your offer to avoid paying interest. Learn about furniture store financing and what to know.
In Conclusion
Labor Day Furniture Sales and  events are some of the best times to buy.  As always, be sure to understand your needs and do proper research before you go out shopping.  An informed shopper is a smart shopper. Here is the first of 3 articles that may help you prepare.