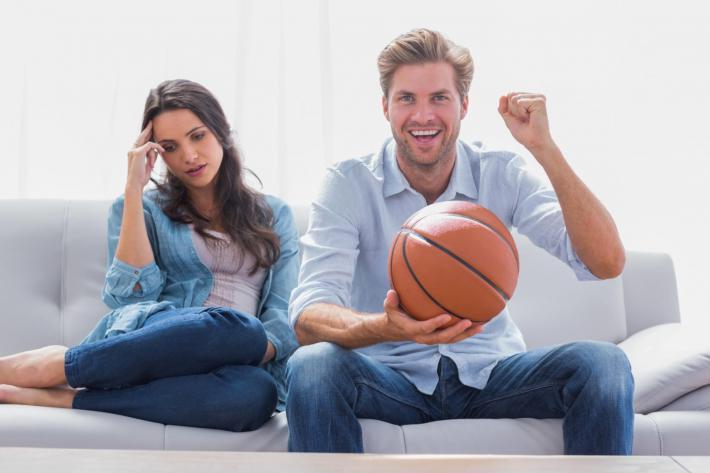 Submitted by Furniche
Every year in March, millions of us carefully and thoughtfully select the teams we place in our college basketball tournament brackets.
The true college basketball aficionado has been watching the various teams through out the year and carefully makes selections based upon the record and strengths of each team including the performance of individuals on the team. Yes, the coach matters too.  However, most of us will go with our gut feel to select our winners and then our bracket falls apart shortly after the start of the tournament.
It is easy to get caught up in the excitement, hype and( pardon the expression), the hoopla!
If only we chose our new furniture with the same care and consideration. The stakes are as high and it is likely you will spend many times the $50 or $100 you have in the office pool. Whether you are buying a $300 sofa or a $3000 bedroom set, you want to make sure that your investment in home furnishings is carefully thought through.
Furniture stores and almost every other retailer will get on the band wagon with a variety of promotions themed around this annual event. Is this the time to run into your local furniture store and make some new furniture selections?
 Here are some lessons from the big tournament that apply to buying new furniture.  
Look at the offerings from the furniture store promotion and weigh the significance of the offers. Just like your favorite teams, if you have shopped various furniture stores before then you may be able to recognize true strengths in a store or the sales promotion.
What do the game films tell you?

Is the store offering discounts and other price incentives? If you have shopped before you may know that the extra 10%  off is real and legitimate. If you are not sure then you should ask about any price guarantees that protect you in the event your item goes on sale later. Many furniture retailers will give you this kind of reassurance. Just like the tournament there will be surprises. If you have not had the opportunity to study the furniture store in advance then keep a vigilant eye after you have made a purchase.
Place your bets carefully.

Many furniture shoppers will need to rely upon financing for those larger furniture bets (purchases). There are some national chains that will entice you with long term financing that tie into the theme of the tournament. Do you need 64 months, 32 months or a sweet 16 months to pay off your purchase? Furniture stores generally use third party finance companies and pay a fee to them for offering long term financing. Most financing beyond 18 months consists of equal monthly payments. Often the furniture store will offer a discount for cash/check/credit card OR long term financing. This is your best indicator that cost of offering you financing is built into the pricing. Weighing the difference in a cash price versus a financing price is just like the "point spread" in teams predicted to win or lose.
Only the best and most successful teams are allowed into tournament.

Often these teams will have to earn a "way in" with success and victory. Win/Loss records matter in your selection of a furniture store. Does the store have a Better Business Bureau affiliation?  This affiliation allows you to find out how they have scored with other customers. To maintain their good rating with the BBB stores should be resolving problems. Don't expect your furniture store to be perfect. Just like the games, fouls will happen and the players have the opportunity to make their "free throws". The referees will work to right the wrong and your furniture store should have a record of righting wrongs with their customers. Angie's List, Yelp and Google Reviews may also give you insight to the reputation of the store.  Got friends? Nothing beats a word of mouth recommendation or warning from everyday "cheer leaders".
Failure to plan is the most common furniture mistake. Be sure to check out the  wide selection of furniture space planners, color wheels and furniture templates available from Furniche.com
Okay so you know the school is reputable but what about the quality of the individual players?

Do they have a track record of proven performance? What are the individual stats of each player? As you start to select new furniture it will be important that you understand the quality of the items you are about to select. It is possible that the furniture store website will have product reviews by customers on specific products. All though these may give some perspective, it makes sense to take these with a grain of salt. Often furniture stores will incentivize their customers to make reviews of individual products. Do the ratings have stars or indicators to show the composite view of the reviews? If everything is rosy on every item then it may be too good to be true?  If the furniture you are choosing is a brand name then it may be possible to find other sources of reviews on the web that are free of any store bias.
How good is the coach?

The winning coaches will step back and study their opponents and know much about them before the game even begins. A professional sales person will carefully and thoughtfully get to know you and your lifestyle before helping you through the selection process. A coach can't get into the game and make the plays. However, good coaches step back and help strategize for success. A good furniture sales person will help you recognize your needs, where you are in the buying process and more importantly give you the best possible information to make an informed buying decision.
Assistant coaches, trainers, ball boys and even bus drivers are all important aspects of successful basketball teams.

Often they work behind the scenes and don't receive recognition.  However, they are crucial to success. When you have made a carefully thought out and studied decision on your furniture choices now the behind the scenes elements of the furniture store come into play. How will you get your new furniture home? Will you be picking it up yourself? If so then what is involved in getting it securely loaded in your vehicle?  If you are having it delivered, how does that work? Will the furniture store delivery staff bring it into your home and complete the setup?  Asking these questions and obtaining answers in advance will ensure that the "furniture game" you are about to play is smooth and as error free as possible.
Overtime is okay! Sometimes these games go down to the wire and often there will be overtime to determine the winner. Furniture stores and sales promotions will often set deadlines for the special offers. This is certainly understandable but you should not be pressured to make a decision that is not carefully thought through. There is a lot at stake. Most people do not buy furniture that often and this type of purchase is something that you will live with for a long time. If you find yourself up against a deadline for an offer to end and you have not made a decision then it never hurts to ask your store or salesperson for an overtime opportunity. If there are legitimate reasons to make a decision on an offer or discount then you may need to take that winning shot knowing that time may expire.
The college teams that find the most success in the tournament often tout the hard work, preparation and great coaching that happens long before the games are played. To make your furniture dollars go further it is equally important to do the hard work and research needed to make an informed and wise buying decision. Whether you win at the buzzer with a 3 pointer or run away with the game by an early lead, we hope your furniture selections will be here for many tournaments to come. Go Team!