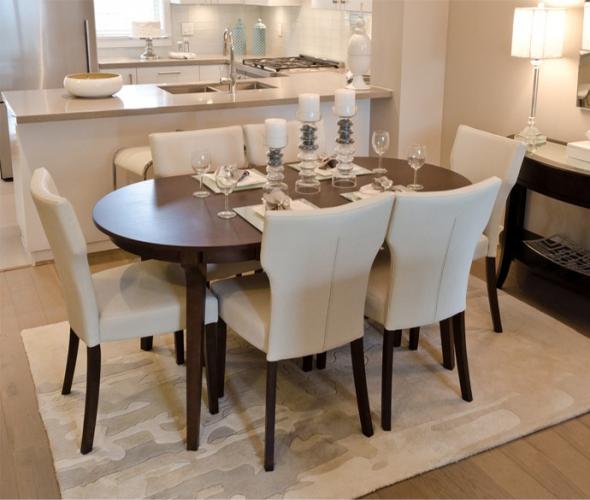 Submitted by Furniche
Dining spaces are typically quite versatile. Some families may have a casual dining space while some homes also offer a formal dining room. And some families create a dining space right in their kitchen.
The dining room furniture you buy will depend on your space allowance, tastes, and needs.
The Whole Truth & Nothing but the Truth!  There are links and ads on this site that pay us a commisson if you "click" and purchase something. This helps us to keep the lights on and continue to provide free content. Thanks! Now you may continue reading!
If you have a formal dining room, your emphasis is likely on entertaining. You'll need to buy dining room furniture pieces that are grand enough for a fancy space but that also are convenient in a variety of social s ettings. First, consider a table that is easily expandable and keep additional seating on-hand to accommodate larger parties. Placing a buffet or side table in the room provides a perfect location to keep oversized dishes off of the main table space. You may also want to keep a hutch in the room for easy access to extra glasses, dishes, and silver. Learn more about quality features of wood furniture.
If you have a more casual dining room, while storage and table space can be important, it's likely that greater emphasis is placed on comfort and functionality. Probably you use this space for family dining more than entertaining, so your furniture choices should reflect that. Meet your family's needs with comfortable seating and materials that are easy to clean. And you may want to consider a round dining table to encourage a family-centric mood. Learn more about fabric cleaning codes.
If your dining area is in your kitchen, preserving space is a key. Consider adding kitchen furniture to built-in elements such as a table at a window seat or bar stools at a counter overhang. Kitchen dining areas are normally cozy and convenient. It is best to work with your space rather than force an oversized piece of furniture into a typically busy room.
Insider Tip- Dining chairs take a lot of wear and stress. Chairs should be assembled with glue or epoxy in joints.
Insider Tip- Tables with extra leaves should open and close smoothly.
Failure to plan is the most common furniture mistake. Be sure to check out the  wide selection of furniture space planners, color wheels and furniture templates available from Furniche.com