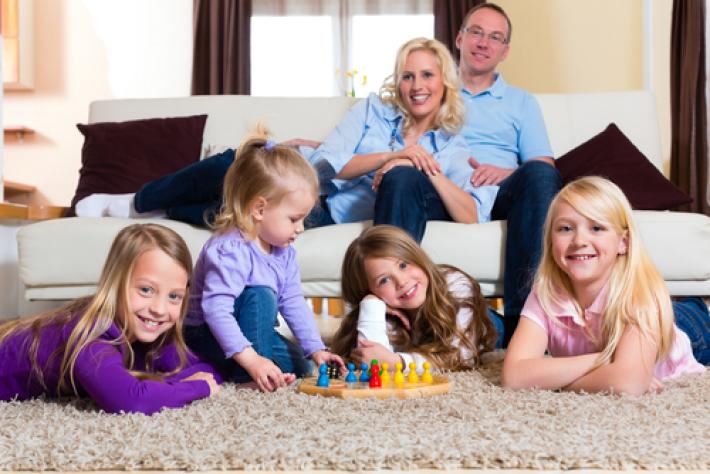 Submitted by Furniche
A family room should be a comfortable, kid-, guest-, and pet-friendly space. It's a room where everyone can come together to relax, talk, play games, and just hang out.
Comfort is very important when shopping for your family room furniture. You want to look for couches and chairs that welcome lounging, that you can sink into at the end of a long day. But because a family room can be so high-traffic, you want to make sure that these pieces will last you as well.
The Whole Truth & Nothing but the Truth!  There are links and ads on this site that pay us a commisson if you "click" and purchase something. This helps us to keep the lights on and continue to provide free content. Thanks! Now you may continue reading!
Choosing high-end leathers, microfibers, or durable fabrics to upholster well-made frames will ensure that your family room furniture will last you and yours a good while. Because there is so much activity in a family room, you want to make sure that you incorporate useful pieces into your furniture selection as well. For example, an L-shaped couch with some accent chairs can create a great furniture circle for conversation and movie watching.If you place a sturdy coffee table in the middle, you've also created the perfect space for board games, snacks, and toys.
You'll want to keep lighting in mind too. If you use your family room for movie and television watching, lamps and overhead lights on dimmers can set the mood and reduce glare on your television screen. And if you place your lamps and direct your light correctly around your furniture, it's easy to turn up the lights when it's time to play those games!  Read more on how to finish off any room with the proper lighting.
Another important piece of furniture for your family room is an entertainment center. You don't just want a place to put your television. Keep in mind DVD storage; other electronics like gaming consoles, radios, and video players; space for family albums; and drawers for all those games and extra blankets. If you choose your entertainment center wisely, you'll have space to keep all your family room necessities right at-hand. Learn more about shopping for home theater/entertainment furniture.
Insider Tip- If you purchase reclining furniture be sure to ask about the factory and store warranties on the metal mechanisms.
Insider Tip- Consider fabric protection products to get the most out of your fabric choice. Read more about fabric and leather protection warranties.
Failure to plan is the most common furniture mistake. Be sure to check out the  wide selection of furniture space planners, color wheels and furniture templates available from Furniche.com