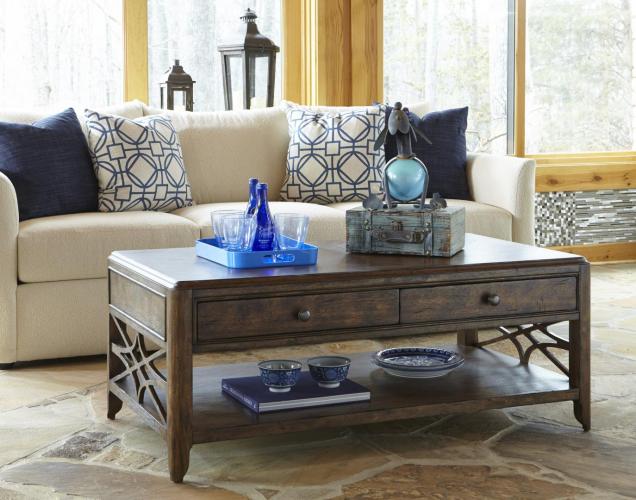 Submitted by Furniche
Klaussner Home Furnishings, a leading solutions provider for the home furnishings industry announces a partnership with Trisha Yearwood.
The Truth & Nothing but the Truth!  There may be links or ads on our site that pay us a commisson if you "click" and purchase something... Thanks! (it helps us keep the lights on! ) Now you may keep on reading!
A new furniture collection by Trisha Yearwood  was introduced to furniture retailers at the April 2015 International Home Furnishings Market held in High Point, North Carolina. The Furniche team visited the Klaussner Home Furnishings showroom and toured this exciting new furniture collection. We were impressed by the colors and styles of furniture that have been directly influenced by the award winning Trisha Yearwood. The folks at Klaussner relayed how genuine and down to earth Trisha has been to work with as she has directly influenced this new home furniture collection. The displays in the showroom also included kitchens which are a natural tie in to Trisha Yearwood and her cooking show on the Food Network.
We asked Klaussner to allow Furniche.com to announce this new collection. Below is information they have provided for us to share with our visitors.
(Asheboro, North Carolina –February 16, 2015) –Country Star, Food Network Host, and New York Times Best selling cookbook author, Trisha Yearwood has announced a partnership with Klaussner Home Furnishings, the leading solutions provider to the furniture industry, to introduce the singer's first home collection.

"We are very excited about our new relationship with Trisha Yearwood" said Bill Wittenberg President/CEO of Klaussner Home Furnishings. "It's a perfect fit! Together the two brands will bring style and value to consumers around the world said Wittenberg. The debut of the Trisha Yearwood Home Collection at the April 2015 International Home Furnishings show has been a year in the making."

The new partnership for Klaussner expands their profile by collaborating with like-minded brands and talent furthering their reach in the US market and abroad. Trisha and Klaussner will reveal the Trisha Yearwood Home Collection at High Point International Market April 18 –23 inHigh Point, North Carolina with highlights including pieces for the whole home.

"The partnership with Klaussner is a natural fit and we are all excited to reveal the collection in April." said Trisha Yearwood. "Being back on the road reminds me how much we all need a warm and inviting space to return to. My collection with Klaussner is all about comfort and accessibility, giving everyone a place to relax and recharge with family and friends."

In addition to this exciting partnership, recently, Trisha announced that her third cookbook, TRISHA'S TABLE: My Feel-Good Favorites For A Balanced Life (Clarkson Potter) will be released on March 31, 2015; she is currently on the road on the Garth Brooks World Tour with Trisha Yearwood and released a new album, PrizeFighter: Hit After Hit.
The collaboration between Klaussner and Trisha Yearwood was structured by ACI Licensing, a LicensingAgency, based in Los Angeles, California".
A RECIPE FOR COMFORTABLE LIVING
That's the brand mission for the Trisha Yearwood Home Collection. Every woman wants her home to be an expression of herself and be a welcoming space to entertain family and friends. The Trisha Yearwood Home Collection allows her to make her vision a reality.
A collection of inspirations from Trisha combining a warm, southern style with a classic twist for some truly remarkable and timeless looks. From her southern roots to her vast travels comes a heartfelt collection of authentic designs with form and functionality at the core of every piece. A special recipe for living, centered around Southern hospitality and a welcoming place at the table, or in the living room, for you and you guests.
The Trisha Yearwood Home Collection includes 80 pieces for the entire home.
The collection features North Carolina made custom Upholstery pieces and imported bedroom, dining room, accent pieces and occasional tables
About Trisha Yearwood and Klaussner Home Furnishings
TRISHA YEARWOOD
Trisha Yearwood possesses one of the most powerful voices in music and has built an empire by graciously standing her ground and fighting triumphantly. Like Trisha herself, her twelfth album PrizeFighter: Hit After Hit, is the complete package, featuring ten of her career-defining hits and six new songs sung so deftly, they call to mind floating butterflies and stinging bees. In fact, the bob-and-weave between classics and new songs mirrors her footwork each night on stage alongside Garth Brooks, as part of their history-making tour. This platinum-selling, multiple Grammy, CMA and ACMA ward-winning recording artist is the epitome of Southern charm…and a C.E.O.to boot.
Since the release of her last Grammy-nominated album, Trisha has written three New York Times Best-selling cookbooks (Georgia Cooking in an Oklahoma Kitchen, Home Cooking with Trisha Yearwood, and Trisha's Table. She's hosted six seasons of her Emmy Award-winning Food Network series, Trisha's Southern Kitchen, and is releasing her own line of cookware, Trisha's Precious Metals, as well as a cutlery line and additional lifestyle brands planned.
KLAUSSNER HOME FURNISHINGS
Headquartered in Asheboro, N.C., Klaussner Home Furnishings has grown to become one of the largest furniture companies in America with showrooms in High Point, Las Vegas and Chicago.
As the leading solutions provider for the home furnishings industry, Klaussner's breadth of product is unrivaled and its service is unparalleled with guaranteed delivery of its domestic products in 21 days or less. Its comprehensive selection and divisions include: Domestic Upholstery, Imported Upholstery, Domestic Motion, Case Goods, Enso Sleep Systems, Comfort Design and Klaussner Outdoor.
Failure to plan is the most common furniture mistake. Be sure to check out the  wide selection of furniture space planners, color wheels and furniture templates available from Furniche.com