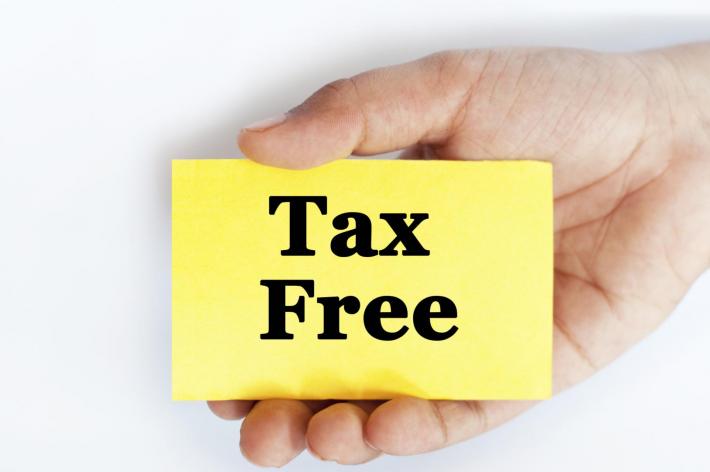 Submitted by Furniche
Why do furniture stores shout "We Pay the Tax", "No Sales Tax", "Tax Free Weekend" and "Double the Sales Tax Off"? 
Sales tax is rarely free or truly waived when purchasing new furniture for your home. Understanding how these offers work will help you decide if it is the time to buy!  Sales tax laws vary by state but our experience generally finds that states still collect sales taxes.
The Truth & Nothing but the Truth!  There may be links or ads on our site that pay us a commisson if you "click" and purchase something... Thanks! (it helps us keep the lights on! ) Now you may keep on reading!
Why do furniture stores use this in promotions and advertising?
Most furniture purchases are large and sales tax can be significant. By using free sales tax as an offer, the furniture store instantly allows you to have a sense of the size and scope of the discount. Most of us know how much we pay in sales tax and the perceived value is easy to calculate.  In other words, we can instantly recognize what kind of savings might be offered.
There seems to be a built in desire by many people to "beat the system"  and these kind of offers appeal to  some consumers looking to get an upper hand or take advantage of the establishment.  In a way it feels like you are negotiating.  Perhaps you have heard this before. "Just throw in the tax and we have a deal"
Tax verbiage resonates with consumers in the early part of the year when the April 15 income tax is looming. By using "free tax" or" we pay the tax" language, it is a perfect way to shout it in advertising when it seems logical. It is similar to running holiday sales themed around the name of the holiday. Let's face it, the word sale is so overworked that the retailer is looking for ways to say it differently and give you reasons to come to their store.
Does the furniture store really pay the tax and how does it work?
 Generally the retailer will give you a discount off of the merchandise that is equal to the amount of the sales tax.  Often you will see an asterisk in the advertising that might read * See store for details.  
Sometimes states will have "tax free weekends" in the fall during back to school shopping times. Furniture stores may hitch hike on that theme but generally sales tax is not waived for furniture and the "tax free" is handled by giving a discount equal to the sales tax then proceeding to collect the appropriate sales tax.
Can a furniture store really afford to give discounts equal to tax?
It all depends on the mark up structure that is built into the furniture stores pricing. Some stores will present their products at higher prices to simply give you a discount. Of course that is not a technique that is unique to furniture retailers.  As in anything we purchase, doing our homework and knowing the relative value of what we are looking at can provide a sense of what is a good deal and what is not.
If a furniture store seems to be running the "we pay the tax" or "tax free "offer on a regular basis then it is safe to assume that the pricing of their products has taken into account this discount.
Furniture stores that make this offer once or twice a year for short periods may be an indication that the "sales tax discount" is truly a good deal.
Many stores will set minimum purchase amounts to qualify for the "tax savings". This could be an indicator that this truly is a good offer. Higher volume and higher purchase amounts help the furniture store absorb this discount.  There is nothing wrong with furniture store wanting to have you purchase higher amounts.  Brick and mortar furniture stores make huge capital investments in buildings, inventory and advertising.  Employees cost money too.  Profit is not a four letter word nor is value.
 
Here is the bottom line. These promotions are just another way to entice you in to the store.  Touting these offers around the normal income tax time of the year is a way to synergistically engage with consumers as taxes are top of mind in the early part of the year.  The real key as a consumer, is doing your homework to know the quality of the products you are choosing (learn about quality features of wood furniture, quality features of upholstered furniture) then comparative shopping to establish what a good price might be. In this situation the extra discount of an amount equal to the sales tax might just be the promotion that makes it a good time to buy. Although most online etailers now collect tax, it may behoove you to shop online for furniture at stores like Wayfair.com.
Just like waiting until the deadline to file your taxes, rushing into large furniture purchases without proper preparation may force you into making an un-informed decision.
Failure to plan is the most common furniture mistake. Be sure to check out the  wide selection of furniture space planners, color wheels and furniture templates available from Furniche.com